Council to host Grant Writing Workshop this month
Council News
Media Releases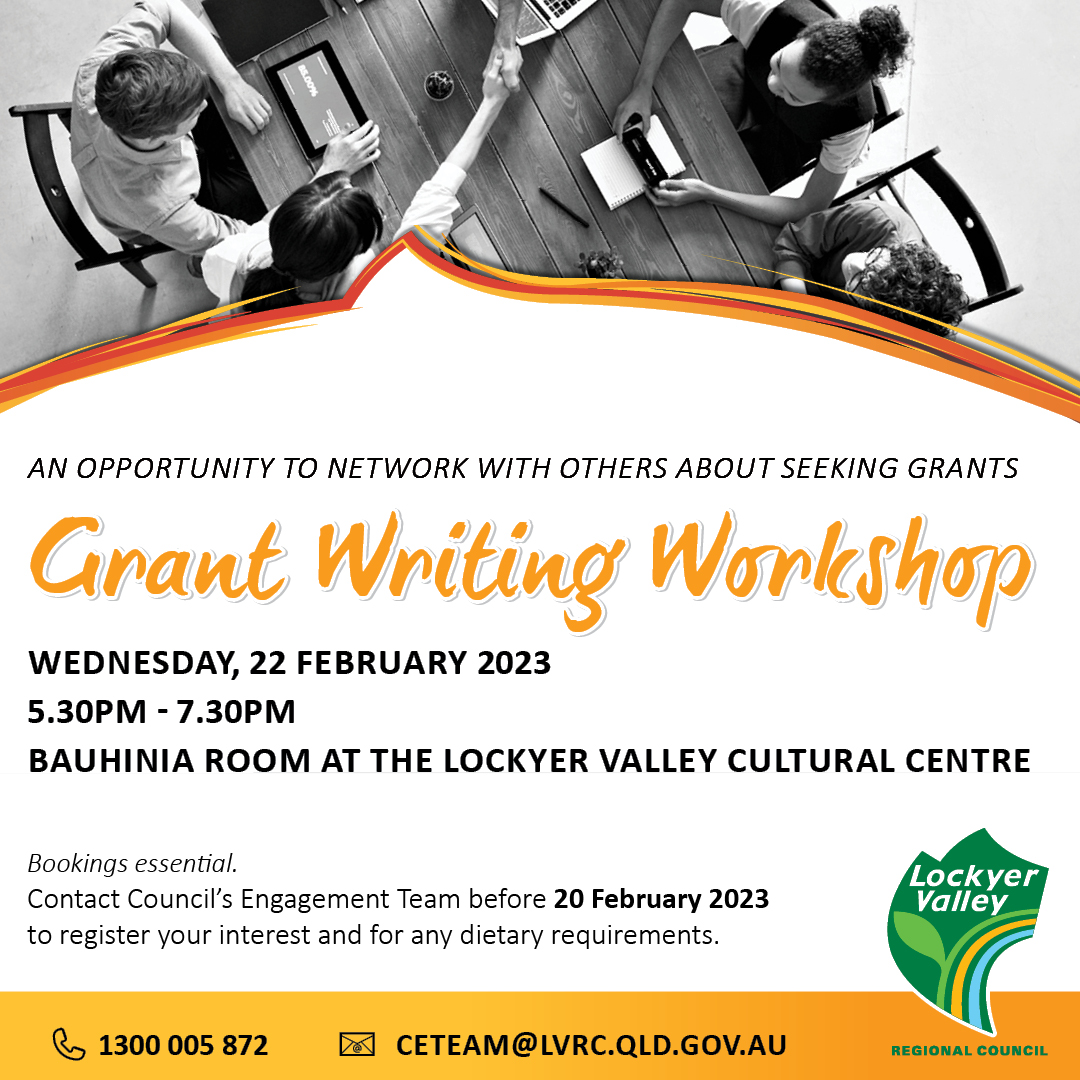 Do you have a great project idea that you just need some extra money to get started on?
Do you want to know more about how grant programs work and how to increase your chances of funding success?
If so, you're invited to attend a free Grant Writing Workshop at the Lockyer Valley Cultural Centre later this month.
Lockyer Valley Regional Council Mayor, Cr Tanya Milligan said the workshop, hosted by Council, would allow volunteers and community group members an opportunity to improve their grant writing strategies and discover what makes a great grant application.
"A well-written application can make a huge difference but applying can be daunting if you haven't had much experience and it can take time to develop the skills for success.
"The workshop will help you understand what's needed in a grant application, how you can increase your chances of success and some of the grants you might be eligible for.
"This workshop will be run by experienced local grant mentor Ann Bichel, who is exceptional at writing grants and has been responsible for bringing millions of dollars to the region through Council's community capacity-building processes," Mayor Milligan said.
The workshop will also feature an overview of current grant programs, provide an opportunity to ask questions and enable industry networking.
"Grants are a great way to fund much-needed local infrastructure, events and other activities.
"If you have ideas and initiatives which can help support people in our community, or if your group or organisation is looking at innovative ways to meet a local need, I encourage you to attend," Mayor Milligan said.
WHAT: Mentoring for Grant Writing Workshop
WHERE: Lockyer Valley Cultural Centre, Bauhinia Room.
WHEN: February 22, 2023.
TIME: 5.30pm – 7.30pm.
Light catering will be provided. Individuals planning to attend will need to register by contacting the Engagement Team on 1300 005 872 or at CETeam@lvrc.qld.gov.au before Monday 20 February.