Cultural Burning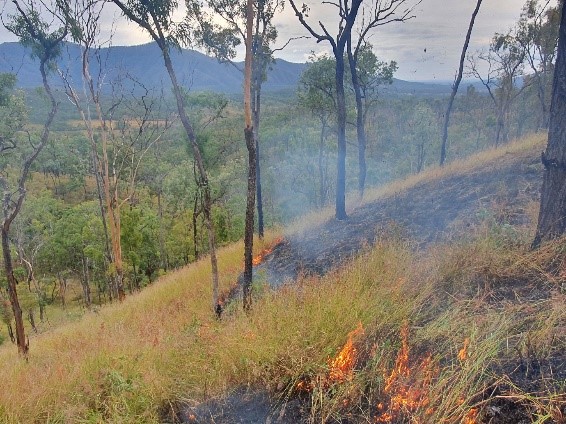 Link to YouTube Video of the Cultural Burn Workshop - 8 June 2021 in Townson
The below information has been extracted from Firesticks Indigenous Alliance Corporation (July 2021) Lockyer Valley Cultural Burn workshops final report.
The contents of this report are copyright of Firesticks Alliance Indigenous Corporation and should not be shared without prior written approval from an authorised representative from Firesticks Alliance Indigenous Corporation. We recognise Aboriginal Ownership of Indigenous Cultural and Intellectual Property (ICIP) for the protection, management and use of confidential information, knowledge, data, information and materials.
Council received Category D Bushfire Recovery Exceptional Assistance Immediate Support Program funding to deliver a cultural burning/Indigenous land practices workshop to the Lockyer Valley. This initiative was a priority action of the community-led Natural Resource Management strategy. The purpose of the Cultural Burning workshops was to raise community awareness of cultural burning, develop relationships between stakeholders, demonstrate the benefits (environmentally, socially, economically) of Cultural Burning and plan a way forward to reintroduce Cultural Burning back into the Lockyer Valley. Nationally recognised provider and facilitator, Firesticks Alliance, was engaged to deliver the Cultural Burning workshops and a demonstration burn.
Part 1: The facilitated mentoring and forward planning workshop
The purpose of the facilitated workshop was to brainstorm ways forward to reintroduce Cultural Burning back into the Lockyer Valley. Participants worked in small groups with each group given a different topic to discuss. Facilitators have a strong understanding where the focus lies when making a plan about how to manage Country and supported the workshop participants to identify barriers; stakeholders who can support a way forward and how to achieve it; recognising the importance of involving Traditional Owners right from the beginning; and the broad community benefits training and collaboration with Traditional Owners can have. The findings of each group were shared and discussed with the whole group.
Benefits and Barriers
Participants identified the benefits of Cultural Burning as a key pathway for healing Country:
Cultural Burning builds resilience;
manages weeds;
enables Traditional Owner leadership;
provides employment for Indigenous people;
assists landowners to achieve their land management goals (e.g. environmental, production);
provides education and awareness to the wider community;
helps revive cultural values (cultural heritage sites, food, medicines, language, story, history), and
reconnects First Nations people with non-Indigenous community.
The following barriers were identified by participants:
The lack of long-term, year-to-year funding availability making long-term planning difficult;
Permit conditions from Fire Wardens do not reflect the methodology of how Indigenous Peoples burn (e.g. fire/vegetation break definition, beneficial winds and timing);
Land access for Traditional Owners to undertake burns;
Affordability of insurance for Traditional Owners threatens the viability of their operations;
Need for more mentoring and training for local Indigenous Fire practitioners;
Lack of awareness within the general community of what Cultural Burning is and how it can heal the country and prevent wildfires, and
Lack of reference sites to enable the community to see how cultural burning works over a period of time.
Guiding Principles
Lockyer Valley based Cultural Burning crews is a key objective for Traditional Owners. To achieve this outcome, workshop participants discussed the following guiding principles:
Cultural Fire Practices need to be led by Traditional Owners with the support of Firesticks Alliance and Bunya Peoples Aboriginal Corporation (BPAC).
Traditional Owners need to have a strong voice in fire practices on their Country.
That the practices and role of the right fire on the landscape is ongoing and cannot be used in small intervals. It is important to have commitments by Landowners across many tenures to ensure ongoing fire management.
Actions
Drawing on the knowledge and experience of Firesticks and BPAC to reintroduce Cultural Burning into the Lockyer, actions were identified through the workshop for stakeholders to deliver. Examples of actions that Council will aim to deliver include:
Develop policy documents that support cultural burning on public land;
Continue to build relationships with Traditional Owners;
Support landholders to engage with Cultural Burning practitioners, and
Proactively seek funding to support Cultural Burning practices.
The successful delivery of this project has helped to increase community awareness and education around the importance of Indigenous led Cultural Fire and generated a large amount of interest from private property owners and agencies within the Lockyer Valley.